How To
Freewebstore allows
Premium Plan
store owners to easily setup and start collecting tips on their checkout.
Register
for an online store with Freewebstore.
Upgrade to any Premium Plan.
Head over to the Settings > Cart Settings section and enable tips.
Create a Free Store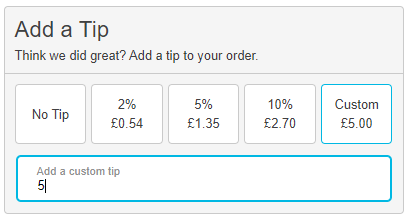 Fully Customizable
The tip feature is fully customizable from within your control panel.
Monitor & Track
Monitor any events on your store regarding tips being added or removed from customer carts.
Colors
Change the primary color of buttons and borders to any color that matches your brand.
Theme
Have a dark theme? No worries, update your tipping panel to be in a dark theme.
3 Pre-defined Values
Start small or start high - It's up to you. Choose which tip values you'd like to be initially visible to your customers.