Monitor & Analyze
The Live Cart Activity feature allows you to watch your customers as they go through their checkout.
Watch window shoppers become valued customers in real-time.
Identify potential conversion issues and new customer pathways to help maximise profits!
Find abandoned carts and recover them!
Create a Free Store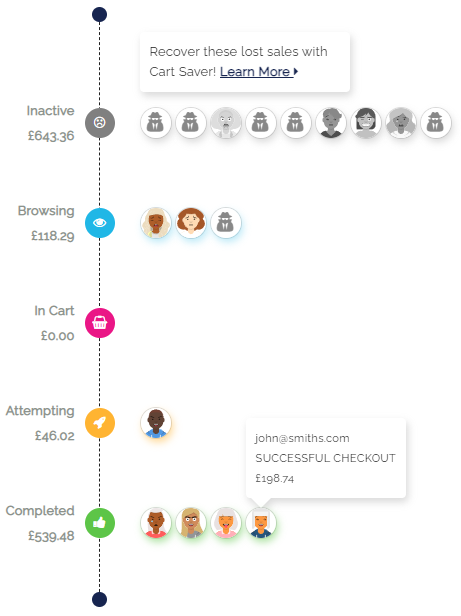 11%
More Conversions
When pairing this feature with Cart Saver, store owners save on average 7-11% of abandoned carts
Store Owner Favorite
Live Cart Activity is officially store owners favorite feature
10s
Refresh Rate
Live activity is refreshed every 10 seconds to keep you up to date with everything that is happening
Real time event tracking
Live Cart Reels
Track real time events in the live cart reel. See what products your customers are adding, removing, and changing. Monitor converted carts, errored carts, and more.
History
Get a full history of real cart events that have recently happened.
Replay
Replay all the events and see how customers moved in and out of the cart.
Errors
View & investigate any potential errors that your customers may have faced.
Audio & Visual
Change the sound of converted customers - Change how your avatars display and look.